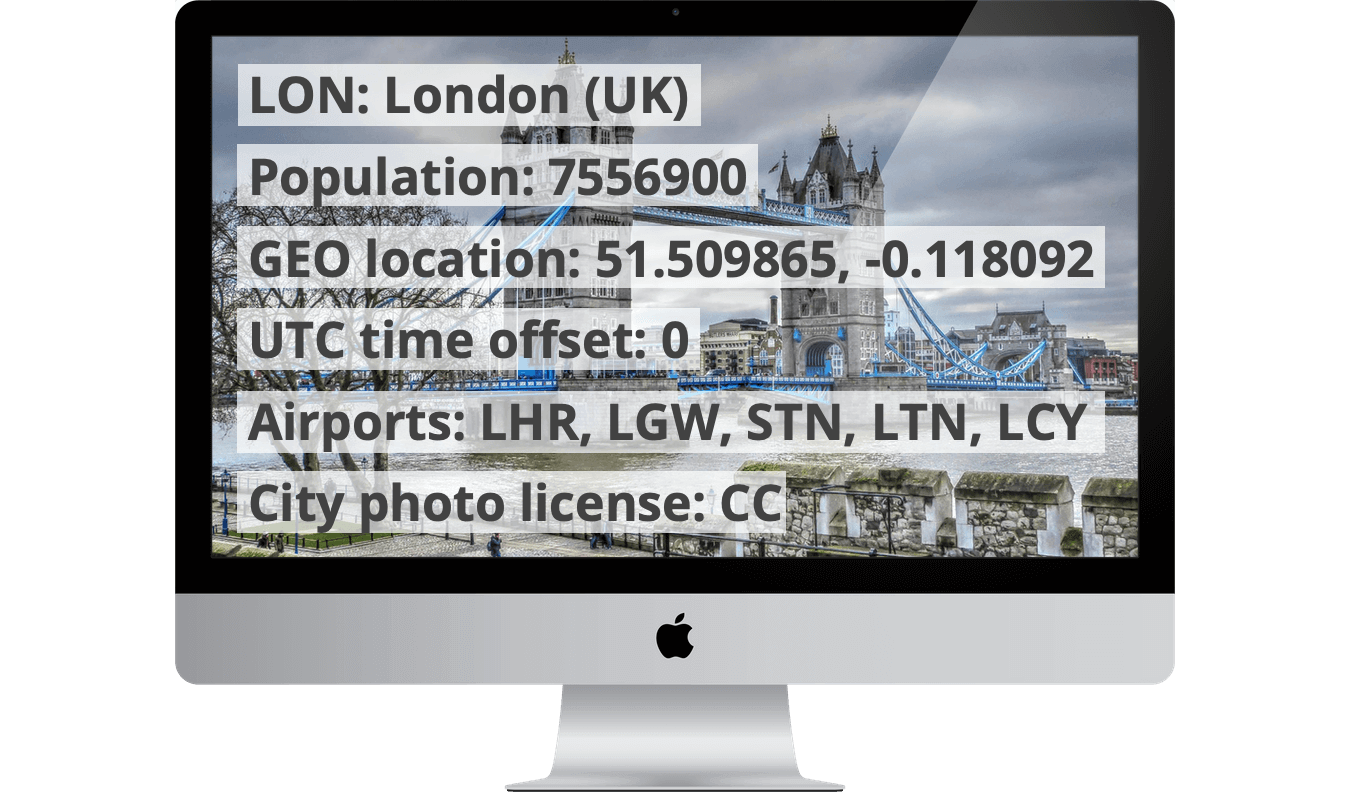 Photos for 1000 most popular cities for commercial use

new!

13304 airports with names + extras
9245 cities with names, country Aplha-2 code, state, timezone and geolocation coordinates
249 countries with names, Alpha-2 codes and Aplha-3 codes + extras to boost your UX
CSV database dump download and JSON/XML API access
---
Core components
Airport directory
13304 worldwide airports
Matched with airport IATA codes
Matched with airport ICAO codes
Airport names
Airport based city/metropolitan matched IATA codes
Airport country Alpha-2 codes
Airport timezones and UTC offsets
Airport GEO coordinates
Airport name:

London Heathrow Airport
IATA code:

LHR
ICAO code:

EGLL
City/metropolitan IATA:

LON
Country code:

GB
Timezone:

Europe/London
UTC time offset:

+1
GEO coordinates:

51.469603, -0.453566
Why do I need a proper airport coding directory?
Data in the world of travel business flows mostly as codes. For example one of the most popular flights in the world would be transferred between travel systems as 7C-112 CJU-GMP $35. The only common information to passengers is the last piece of text with price and in order to convert the rest of the data to a human-readable format, airline and airport codes database are required. If pass this example through coding directory it would be a Jeju Air flight #112 from Jeju International Airport, Jeju to Gimpo International Airport, Seoul. So a proper airport database is essential and critical for the UX and conversion rates of your travel business. At AirHex we aggregate and verify this data from multiple sources and monitor changes to add new airports to the database as soon as they commence operations and become active. We also collect information that empowers your abilities to provide better user experience to your customers such as timezone and UTC time offsets and airport location geo coordinates.
City name:

Los Angeles
IATA code:

LAX
State, full:

California
State, short:

CA
Country code:

US
Timezone:

America/Los_Angeles
GMT time offset:

-8
GEO coordinates:

34.0522342, -118.2436849
Population:

3971884
Popularity:

3
City directory
9245 cities worldwide
Matched with city IATA codes
City names
Licensed for commercial use photos for 1000 most popular cities

new!

City country Alpha-2 codes
Full and short states for US, Canadian and Australian cities
City timezones and GMT offsets
City geolocation coordinates
City population
City popularity/weight
Build a perfect autocomplete with city coding directory
Along with airport coding directory, city database matched with IATA codes completes your information display to customers by decoding city codes for a specific flight. Combine both to provide autocomplete form fields for your customers. We even aggregated city popularity for passengers from few of our global flight search partners and of sorted it by flight popularity, so you get ready-to-use weights to sort cities and airports in an autocomplete.
Country directory
249 countries
Country names
Country Alpha-2 and Alpha-3 codes
Country capital's matched IATA codes
Country currency codes
Regions country belongs to
Continents country belongs to
Country populations
Country phone codes
Country name:

Thailand
Alpha-2 code:

TH
Alpha-3 code:

THA
Capital IATA code:

BKK
Currency code:

THB
Region:

Asia
Continent:

AS
Population:

67089800
Phone code:

+66
Complete your database with country coding directory
Complete your data with country codes and extras from the country coding directory. Help your customers building great features using information provided in our country database.
---
Use cases of GEO Essentials Set by Airhex
Before

Boring main page navigation on a travel website, semi-automated list of destinations with prices
Conversion rate

-
After

Improved website navigation, better conversion rate and decreased bounce rate
Conversion rate

+
---
---
Customer Showcase and Testimonials
Wego

Travel Metasearch

We used to spend quite a bit of time for cropping, editing and keeping up to date airline logos. Airhex helped us to save time, so that we could focus on building a great travel websiteNatalya Kosenko, Project Manager at Wego, Singapore
Easyvoyage

Online Travel Agency

Airhex provides extensive, high quality airline data and logosLaurent Vandembergue, CTO at Easyvoyage, France
Inflyter

Travel Startup

We have been using Airhex for 18 months. It's a reliable data platform and they provide a high quality airline logo designWassim Saadé, Founder & CEO at Inflyter, France
Codegen

Travel Tech Company

With Airhex we can focus on the development work rather than wasting time on creating something that already existsMohamed Shirazi, Head Customer Relationships at Codegen, UK
For the last two years Airhex helped dozens of travel companies to save over 48,000 hours of work and more than $1.5 Million in operating costs
Airhex logo API is great - much better than wasting our time generating all the imagery ourselves, only to discover that a logo has changed, or that we've changed our mind about the size we wanted.Matthew Steer, Head of Product & Engineering at Travel.Cloud, UK
Initially we planned to outsource this scope of work to freelancers or external agencies, however signed up to Airhex to pass all of this pain with task management to someone else and there was a ready to use contentSteven Wong, Product Manager at GoQuo, Malaysia
This is a very helpful service that saves us a lot of timeNick Griffiths, UX Lead at Corporate Travel Management, Australia
---
Trusted by dozens of travel and tech companies
All logos listed here are individually authorized by every customer for placement
✓
Thank you for your request!
We will send you a link to download the report within few minutes. If there will be no e-mail from us, then check your junk or promo folder.
!
There was a problem submitting this form. Please contact us by email [email protected]




Submitting the form, please wait...
---